Last year, donors like you helped 2.3 million people improve their incomes and the health, education, and welfare of their families. But our job is far from over. Your contribution will help us make an even greater impact this year and beyond.
Jackeline Mukandori's new income from coffee enabled her to buy insurance for her family.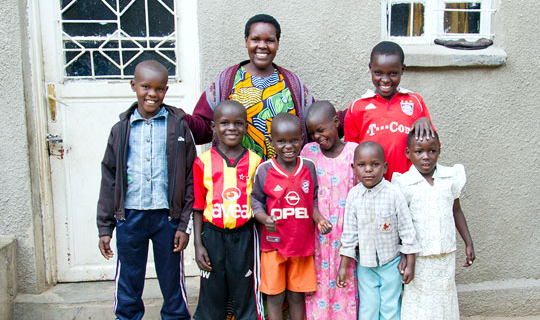 Other Ways to Give
Aside from making a donation directly on our website, there are many other ways to support our work. The list below describes some of our available giving options. Please consider what works best for you. For more information, please contact us at donorsupport@technoserve.org or +1 800 99 WORKS.
Become a Partner in Prosperity
TechnoServe's monthly donors play a key role as Partners in Prosperity.
Your consistent, monthly support enables us to commit to delivering assistance where it will have the greatest impact. Monthly giving also reduces the need for costly fundraising appeals. It's the easiest way to give and ensures that the hardworking men and women in developing countries that we work with receive your ongoing support.
Make a Gift by Mail
Please complete and print this form and then send it to:
TechnoServe
Attn: Development Office
1120 19th Street NW, 8th Floor
Washington, DC 20036
Gift Guide
Looking for an inspiring gift for your loved one? Honor your loved one with a meaningful gift that empowers hardworking men and women in developing countries to lift their families out of poverty. Help a woman receive training on how to start her own kitchen garden or give a coffee farmer 2 years of lessons at a Farm College with TechnoServe's Gift Guide.
Matching Gifts
Many employers sponsor matching gift programs to match charitable contributions made by their employees. Gifts from employees' spouses and retirees may also qualify for a match. Search to find out if your employer has a matching gift program.
Amazon Associates
Did you know that you can give back while shopping at Amazon.com, at no additional cost to you? TechnoServe is a participant in the Amazon Services LLC Associates Program, an affiliate advertising program designed to provide a means for sites to earn advertising fees by advertising and linking to Amazon.com. Here's how it works:
When you're ready to shop, visit technoserve.org/amazon and our site will forward your browser to our special Amazon Associates link.
Shop as usual: Add items to your cart and check out.
Amazon will contribute up to 15 percent of your purchase to TechnoServe.
Even if you close your browser and come back within 24 hours, Amazon will remember that you used our unique Amazon Associates link.
Stock Contributions
Gifts of stock or other appreciated assets yield a profound benefit for the people we work with and are often a better option for realizing the tax benefits of your giving. Please contact Katie Seigle at kseigle@tns.org or 202-650-5717 when making a gift of securities to ensure proper acknowledgment.
Depository Transfer Check (DTC) is TechnoServe's preferred transfer method. Stock can be sent via DTC # 8862. For more information, contact:
Merrill Lynch
Attn: Christopher Smiles
301 Tresser Blvd., 10th Floor
Stamford, CT 06901
Phone: 203-356-8803
Fax: 203-437-4686
Both DTC and physical certificates should be registered in the name of TechnoServe, Inc.
Legacy Gifts
TechnoServe offers a variety of options for providing long-term support to our work through bequests, pooled income fund, charitable gift annuities, and other vehicles.
Combined Federal Campaign
TechnoServe is a member of the Combined Federal Campaign. Our number is #10728.
Donor Advised Funds
If you have a donor advised fund, DAF Direct enables you to recommend grants to TechnoServe directly from your fund. Check if your fund's sponsoring organization is participating here.
Tell Your Friends and Family
Invite your friends and family to get to know TechnoServe. We will provide you with tools and support to share the stories of the people whose lives are improved every day because of the work you support.